George Everest Biography and Facts
George Everest (1790 – 1866) was a famous Welsh geographer and surveyor that made his claim to fame by managing to explore much of the area of India and Nepal. He spend more than a decade serving a position of Surveyor General of India, working on completing Great Trigonometric Survey of India in the area wider than 2,400 kilometers.
George Everest was born on 4 July 1790 in Crickhowell, Wales. Little is known about his youth until he joined military, more precisely Royal Artillery. Everest rose to the rank of lieutenant, and later on assistant to the Colonel William Lambton who begun working on the Great Trigonometrical Survey of Indian subcontinent in 1806. After Lambton's death in 1823, Everest continued his work and in just a few years was awarded a position of Surveyor-General of India where he commanded efforts of all geologist and surveying missions.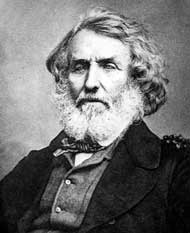 He actively worked in India until 1843, when he retired and returned back to United Kingdom. There he continued to serve on several prestigious positions, most notably as Fellow of the Royal Society and vice-president of the Royal Geographical Society. He was knighted 1861, and four years later Royal Geographical Society elected to honor him by naming tallest peak in the world as Mount Everest. George Everest however objected to their decision. Mount Everest was never surveyed directly by George Everest. This feat was done by his successor on the seat of Surveyor-General of India, Andrew Scott Waugh who was first to suggest how this mountain needs to be named.
Colonel Sir George Everest died at the age of 79 on 1 December 1866 in London England. He is buried at St Andrew's Church, Hove, near Brighton.