Juan de Oñate Biography and Facts
Juan de Onate (also known as Don Juan de Oñate y Salazar, 1550 - 1626) is a famous Spanish explorer, conquistador and colonial governor who played a critical role in the exploration of the North American territories that are today part of American Southwest. His most remembered exploits are visits to the Great Plans, Lower Colorado River Valley, claiming of territories in New Mexico and encountering of the many local Native American cultures (some who entered into fierce combat against him and his strict rule). Many historians refer to him as "The Last Conquistador".
The Early life of Juan de Onate started in the city of Zacatecas in today's Mexico (then known as New Spain). He was the son of the Spanish-Basque colonist, silver mine owner, and conquistador Cristóbal de Oñate, and mother Doña Catalina Salazar y de la Cadena. Juan de Onate married Isabel de Tolosa Cortés de Moctezuma, granddaughter of the most famous conquistador of all time Hernán Cortés, who destroyed the Aztec empire.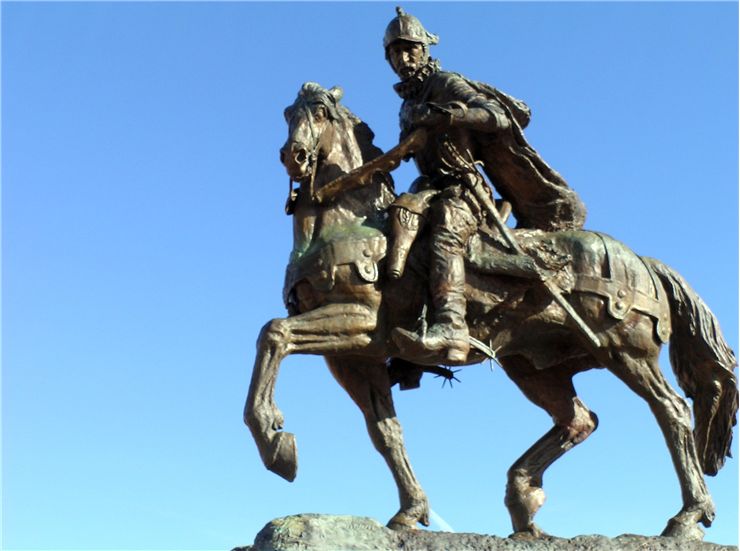 At the age of 48, Juan de Onate started his career of exploration and colonization of unexplored lands deeper into the North American continent. The first journey away from New Mexico started in 1598 when he crossed the Rio Grande and started colonizing land and spreading Roman Catholicism to local natives. He encountered Pueblo Indians, founded Province of Santa Fe, and fought in the large battle at Acoma against Pueblo People who did not want to hand over their entire winter supplies to Onate's expedition. In that battle, Onate killed over 800 men, women, and children, and has enslaved remaining 500 (of which all men over 25 were punished with amputation of the left foot).
Next big expedition of Juan de Onate started in 1601 when he set his sights on Great Plains. With the party of 130 experienced soldiers, 12 priests, and a retinue of servants, he started his quest to find the legendary city of gold. Of course, he did not find it, but he encountered Apache people, traveled to Oklahoma, visited Escanjaques people, described the first encounter of tall grass prairie of central North America, and toward the end of the journey he encountered Rayados peoples, whose Chief Caratax led Onate's party across the land that was known to him. At the journey home, Juan de Onate was involved in a large battle against Escanjaques people.
The final expedition of Juan de Onate was focused on the Colorado River and involved only the small part of around 30 to 40 people. They traveled between the Rio Grande to the Gulf of California in 4 months, managing to bring back accounts of the area and suggestions about the establishment of a port in the Gulf of California.
In 1606, his days of exploration and land conquering ended after he was forced to return to Mexico City for hearing about his extreme cruelty to both natives and colonists. He was not jailed but eventually traveled back to Spain where he received the post of head of all mining inspectors by the order of Spanish King. He died in 1626, remembered by some by his important exploration efforts, and by many as cruel man who killed and tortured indiscriminately.