Daniel Boone and his exploration of Kentucky
Daniel Boone (1734 – 1820) is today remembered as one of the greatest United States explorers, pioneer of colonized west and frontiersman whose exploits made him a famous personality even during his life. By venturing into west of Appalachians, he enabled thousands of settlers to find their way through hard environment and settle in the village of Boonesborough Kentucky, bastion of colonial civilization for many years to come.
After Boone's parents immigrated to North America in 1713, young Daniel Boone came into this world sometimes around November 2, 1734 in Oley Valley, Berks County, Pennsylvania, which was by then considered to be frontier land of colonized lands in North America. Surrounded by nature, Indians and hunting, young Daniel Boone soon became greatly accustomed to the life in nature, tracking, hunting and fighting. Even though he did not receive much formal education, history remembered him as bright, intelligent and fast learner. During French and Indian War between (1754-1763) young Boone joined the forces of the British for two years, during which time he learned much about the lands surrounding Appalachian Mountains.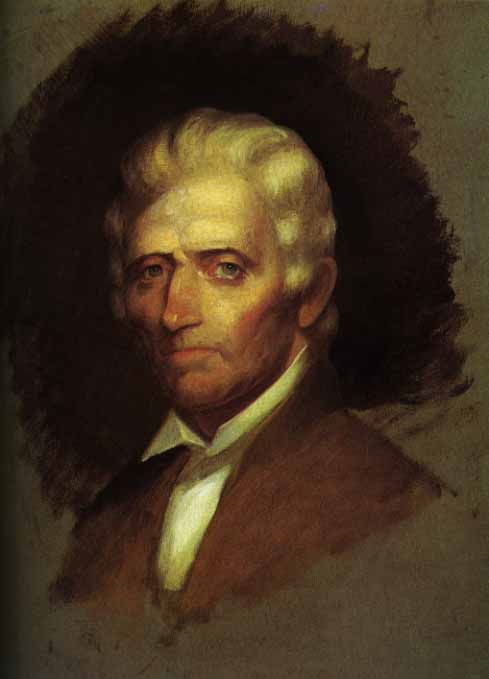 Upon returning home, he got married and started supporting his family as a seasoned hunter and frontiersman. His long hunting "seasonal" trips gave him the opportunity to explore, which led to his first 1767 journey to Kentucky, and his second much longer journey there. After he was convinced that fertile lands of Kentucky and his traveling route could be a viable way for next way of colonization, he gathered his family and group of 50 emigrants on September 25, 1773, and attempted to colonize Kentucky. Sadly, journey was canceled after few members of their group and Boone's eldest son James were captured by local Indian tribes and gruesomely tortured to death. This incident started what is known today as Dunmore's War, series of conflicts between Virginia militia and Shoshone Indian tribes who in October 1774 relinquished their claims to Kentucky.
One year later American Revolution started, and experienced militia fighter Daniel Boone was thrust into yet another conflict, from which he emerged as a folk legend that was known all around the world. Cause for that fame can be found in his courage and fighting ability but also because a much publicized event when he and group of his men successfully defeat group of Shawnee Indians who captured his two daughters. This event later became adapted by James Fenimore Cooper into functionalized book called "The Last of the Mohicans". His fame also rose significantly after he managed to gain Shoshone trust and became member of their tribe.
Efforts to colonize Kentucky continued throughout the American Revolution, and during that time Boone successfully led thousands families over his road, establishing several new settlements. After the war, he tried to become land owner and businessman, but bad investments forced him to abandon this lifestyle. In 1799 he emigrated to eastern Missouri, where he lived for the next 21 years.