James Cook - Biography of Famous English Explorer
James was an English explorer, navigator and cartographer that is best known today for his 17th century naval exploits on Pacific Ocean. During his service on English navy, he made three voyages on the pacific where he discovered the Australian continent and islands of Hawaii.
He was born on 7 November 1728 in Marton, Yorkshire, England and in year 1755, he joined the English Navy as a master's mate on HMS Eagle. Three years later, he was a part of a military offensive in the Seven Years' War against the French forces in North America. During that time, he developed considerable skill as a navigator and a cartographer.
His rise trough the ranks continued, and in 1766 Royal Society appointed Cook to go on a mission across the Pacific to record the transit of Venus across the Sun - a very rare astronomical event that happens twice every 243 years. He managed to record that event on 13 April 1769 in Tahiti. After that, he sailed to New Zealand where he managed to map the entire coast of the island. On 19 April 1770, he became first European to spot the eastern shores of the Australia. He successfully returned to England on 12 July 1771 via Cape of Good Hope and the island of Saint Helena.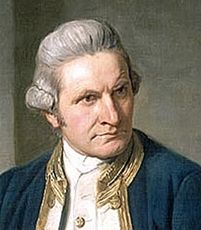 Cook's second journey started in 1772 when the Royal Society sent him on a mission to search for the mystical island of Terra Australis - landmass that appeared on several ancient European maps. During this trip he was the first explorer that entered the waters of the Arctic Circle, mapped the island South Georgia, visited the Easter Island and almost sailed in the sight of the Antarctica continent. Cook returned to England in 1775 proving that Terra Australis is indeed a myth.
In 1776 James Cook he embarked on his last journey with a mission to discover the Northwest Passage - famed sea route that connect the Pacific and Atlantic ocean between the lands of Arctic and northern Canada. Two years later, he becomes the first European to spot the islands of Hawaii, naming them "Sandwich Islands". From there he traveled to the shored of North America and mapped the entire Northern coast up to Alaska and Bering Strait. Frozen Ocean prevented him to sail beyond the Bering Strait witch made him decide to abandon the quest for Northwestern Passage. Cook returned to the Hawaii in 1779 where he met with the local people. After making repairs to one of his ship he was involved in a quarrel with the natives that ended with imprisoning the king of Hawaii Kalaniʻōpuʻu. That action started the unrest of the locals and eventual death of James Cook by their hands on 14 February 1779.