Sir Humphrey Gilbert Biography
Sir Humphrey Gilbert (1537-1583) was an English adventurer, explorer, politician, and soldier that lived during the 16th century Tudor era. During his life he became well known noble of English crown, and as a half-brother to the famous Sir Walter Raleigh he also forged his reputation as a pioneer of English colonization in North America.
Humphrey Gilbert was born in Devon, as a fifteenth son of Otho and Katherine Champernowne Gilbert. After he finished his naval and military education at the University of Oxford, he joined the fight against Irish rebellion led by Shane O'Neill, but he soon found himself in the London, where he remained close to the English crown.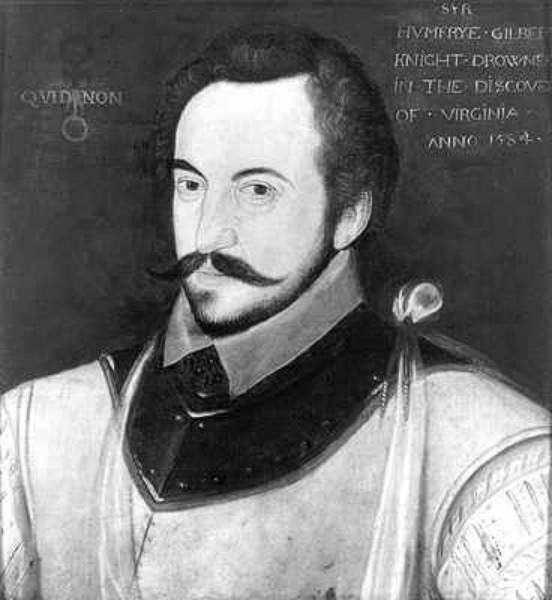 After the end of the rebellion, he was appointed to the office of Ulster and as a member of the Irish parliament. During his stay there, he fought many battles against rebellious Irish.
In early 1570s, Gilbert returned to England where he married Anne Aucher and set his sights on the colonization of Greenland. Several of his expeditions sadly never had any result - in 1577 Forbisher's trip failed to explore Greenland, in 1578 Gilbert himself unsuccessfully went to Americas, and in 1579 he led failed sea campaign against Ireland. However, with the end of his six year license to explore the waters and lands of Newfoundland slowly coming to expire, he managed to gather the funds and form the fleet of five exploratory ships.
Sadly, dreams of the crew and the funders of the trip were shattered with the Gilbert's poor planning. He did not paid taxes on the newfound lands before embarking on a trip, thus making all their discoveries and claimed land illegal, and his rag-tag crew of misfits, criminals and ex-pirates gave much problems before the fleet somehow managed to reach Newfoundland.
Humphrey Gilbert and his fleet did not manage to secure permanent settlement on the Newfoundland. Burdened by the harsh lands and lack of supplies, entire fleet left for the England, but during the way back nearly all of his ships were damaged during strong storms and poor navigation.
On September 9th of 1583, his flagship frigate "Squirrel" succumbed to the sea during the one storm, taking to the deeps the lives of Sir Humphrey Gilbert and every member of his crew.