Álvar Núñez Cabeza de Vaca and his journey to the New World
Cabeza de Vaca (born as Álvar Núñez Cabeza de Vaca between 1488 and 1490, died between 1557 and 1558) was a famous Spanish explorer who todays remains remembered for the records of his disastrous journey to the New World, loss of his entire expedition, fall in to slavery, exploration and eventual salvation and return to the Europe. Detailed accounts of his time in North America gave Europe first look at the life and structure of numerous Native American tribes that lived in the areas between Florida and Mexico City.
Álvar Núñez Cabeza de Vaca was born between 1488 and 1490 as a son of Teresa Cabeza de Vaca y de Zurita, heiress of the Spanish Hidalgo family and member of nobility that was closely connected to the royalty. Little is known about his youth and education, but his name resurfaced only in 1527, when he was appointed to be treasurer of the famous Narváez expedition that had the goal to explore, find gold and settle on the New World land.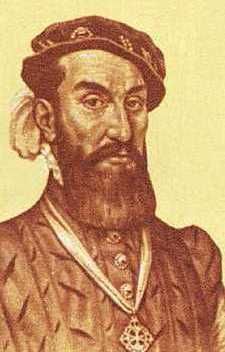 Under the leadership of conqueror Pánfilo de Narváez, exploratory fleet of over 600 men traveled through hurricanes from Spain to Cuba and Hispaniola (modern day Haiti), before finally landing in Tampa Bay, Florida. From that moment on, expedition ran into serious during their trek through harsh and dangerous swamplands of Florida. After lot of struggle and death, only 242 men managed to reach Apalachee Bay, stranded in the unknown land and over 15,000 miles away from the nearest Spanish settlement in Mexico. Seeing that traveling by foot will be impossible, crew managed to build 5 primitive boats, each being able to carry 50 people. Using them they sailed along the coast Gulf of Mexico, before reaching bad weather at the delta of Mississippi River. Only two boats with 40 survivors managed to survive that misfortune, landing on the Galveston Island where they were eventually enslaved by local Native American indian tribes. By then, only four out of 600 men in the expedition were alive. Cabeza de Vaca, two other Spaniards and enslaved Morrocan berber named Esteban (who would later be remembered in history as Estevanico, one of the earliest African slaves who was transported to the North America). This party of four managed to drift from one tribe to another, sometimes as slaves sometimes as traders and healers, traveling slowly along the coast of the Gulf toward the Mexico. During the time of eight long years they passed through Texas, Arizona and northeastern Mexican states of Tamaulipas, Nuevo León and Coahuila before finally reaching Spanish settlers around modern day Culiacán. From there, Cabeza de Vaca traveled directly to Mexico City and sailed to Europe in 1537.
In 1540, Cabeza de Vaca was appointed by the Spanish crown to become Conquistador under the military title of Adelantado, with the mission to lead mission to the Río de la Plata in South America, conquer local population and settle in the area of Buenos Aires. However his officers and settlers did not share his peaceful and fair attitude toward local population (created over the decade when he lived and worked as a healer and trader in North America), and arrested him on the grounds of "poor administration". In 1545 Cabeza de Vaca reached Spain where he was tried and exonerated.
From that point on Cabeza de Vaca lived in poverty, and died around the year of 1558 in Seville. His records from The Relation of Álvar Núñez Cabeza de Vaca are today regarded as one of the most important historical recording of early North American colonization, showcasing not only description of local Native American tribes and their customs, but also geography, flora and fauna.