Pedro de Alvarado y Contreras Biography and Facts
Pedro de Alvarado (1485 - 1541) was a one of the most famous Spanish conquistadors and military leaders who was involved in the conquests of Cuba, Mexico, Guatemala, Honduras, El Salvador and several exploratory missions in Central America. During his life he gathered reputation of the fierce leader who was prepared to do anything, even mass murders of the local population who stayed in his way.
Pedro de Alvarado was born in Badajoz, Extremadura, Spain in 1485 as the son of the highly decorated and respected nobleman Diego Gómez de Alvarado y Mexía Sandoval y Porras. Little is known of his early life. He appeared in the history books in 1510 when he, his father and his four younger brothers sailed to the Hispaniola, where he managed to get the posting of the leader of the expedition to the Yucatán in 1518. Next year, Alvarado accompanied Hernán Cortés in his expedition to Mexico as the commander of one of the 11 ships and the overall second in command of the fleet. While staying in the Aztec capital city of Tenochtitlán, Alvarado was tasked on holding the Spanish soldiers safe against restless natives who were very angry that Cortés has imprisoned their king Moctezuma. After Cortés left to preemptively attack the fleet of Pánfilo de Narváez, Pedro de Alvarado was left in the control of the city that was on the verge of hostilities. To subdue hostile natives who wanted to free the Moctezuma, he ordered slaughter of Aztec nobles and priests during the religious festival that involved human sacrifice. Spanish forces retreated from the city after that event, with Alvarado becoming wounded. Alvarado was also present at the Siege of Tenochtitlan, where he managed to be the first commander who fought his way to the center of the city where started burning Aztec shrines.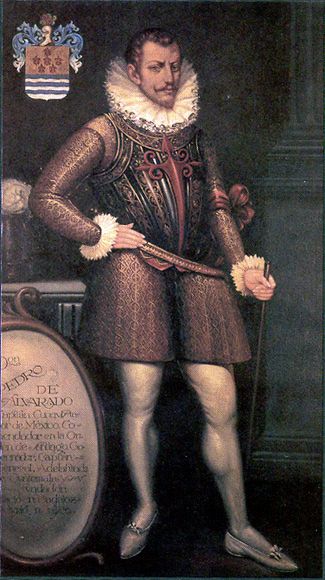 Between 1523 and 1527 Pedro de Alvarado was sent by Cortés to conquer Guatemala, which he managed to achieve after years of fighting against population that was totally opposing his approach of mass murder and torture of natives. After enslaving population of Guatemala he put them all to hard labor to mine gold and precious stones. After Guatemala he also attacked the regions of El Salvador where several Spanish cities were established. He was wounded there and even forced to retreat to Guatemala, tasking his brother Gonzalo de Alvarado continue military campaign there which was finished by 1528. During this period Pedro de Alvarado received lifetime posting of governor of Guatemala, but in 1534 he embarked on the military campaign to conquer Peru. However when he arrived there he encountered forces of Francisco Pizarro's lieutenant Sebastian de Belalcazar who managed to arrive there earlier. After clashing with his naval forces, Alvarado returned to Guatemala.