Robert Falcon Scott - English Explorer
Robert Falcon Scott was English explorer and Royal Navy officer that is today best remembered for his Polar expeditions during the period of time that is today known as Heroic Age of Antarctic Exploration. Sadly, he died on his second mission shortly after reaching the South Pole. News of his death made him one of the most praised British explorers of his time.
He was born on 6 June 1868 in Stoke Damerel, England as a third child of a brewer and magistrate John Edward. His family had naval tradition, and at age 13 he joined Royal Navy as a cadet training on a ship HMS Britannia. He slowly rose through the ranks, and in 1899 he approached Royal Geographical Society with a wish to lead the Antarctica expedition that was planed in that time. With a newly gained position of Commander, Scott commanded ship Discovery on his first journey to the South Seas, carrying with him famous scientists Ernest Shackleton and Edward Wilson. Scott scouted waters around Antarctica, explored small amount of land and established a small camp that would be used as a starting point for future missions.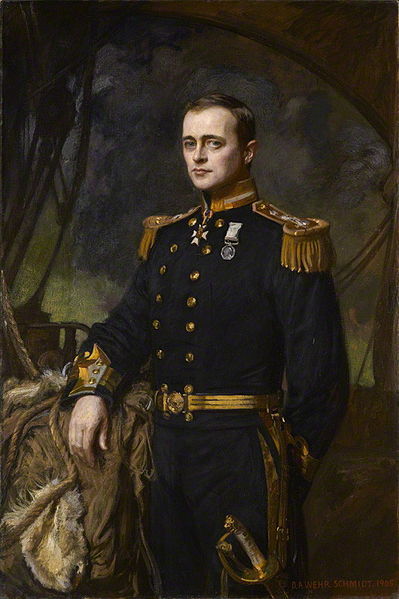 When Scott returned to England in 1904, news of his journey fueled his fame and soon after he received promotion to rank of a Captain and many more medals and honors. In 1909, Scott begun planning a new expedition with a goal to reach the South Pole and secure he honor of the British Empire. He embarked on his journey in late 1910, well ahead of his rival Roald Admunsen but several mishaps made him postpone beginning of his land journey.
He started his land journey from Ross Island on 1 November 1911, while knowing that that Admunsen's camp was located only 200 miles toward east. His travel proved to be really hard, with severely cold weather that killed all of his traveling ponies. Crew of five finally reached the Pole on 17 January 1912, but there they found out that Admunsen managed to precede them by five weeks. On their journey back, Scott was hit with more bad weather and during those days members of his crew begun slowly to die from cold.
Robert Falcon Scott was last of his crew to die trying to return to his home base on 29 March 1912. His body and tent was found eight months later. News of his death glorified his journey to new heights but in following years news surfaced that he did not plan the mission correctly. Reports spoke that he gave several orders during the journey that worsened his chances of survival.