Sir Richard Hawkins Biography
Sir Richard Hawkins (1562 - 1622) was an English admiral, privateer and explorer who is today best remembered as a son of a Admiral Sir John Hawkins and a nephew of famous Sir Francis Drake. During his life he accompanied them into their discoveries around the world, and took part in the defense of England against Spanish Armada in 1588.
Richard Hawkins was born in Plymouth, England as a son of Elizabethan explorer Sir John Hawkins, and his accompanied his father from early age sailing between Europe and New Indies regularly. During that time he educated himself in the art of naval warfare, trade and exploration, learning from his father, Sir Francis Drake and Sir Walter Raleigh. Before taking command of warship that defended the waters of England against Spanish Armada in 1588, Hawkins took part in several travels to New Indies, most notably visit to Brazil in 1585 and Sir Walter Raleigh's colony Ralph Lane in 1586.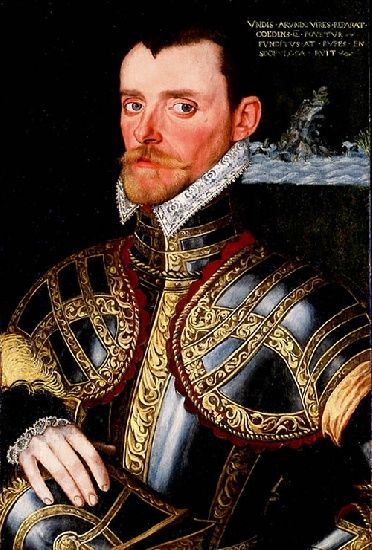 After the end of hostilities against the Spanish, Richard Hawkins and his father formed another expedition to West Indies, this time setting their sights on the Spanish Main that lay beyond Strait of Magellan. During his stay there he engaged Spanish several times until his eventual wounding and capturing in 1594 in Chile. He remained in their imprisonment for several years, until English government ransomed him for £3000. Upon returning to England in 1603 he was knighted by King James I, and become Lord Mayor of Plymouth and spent next 17 years on land.
In 1620 he again stepped to the command of the ship, and led the military fleet against the Mediterranean pirates that operated from North African coast of Algeria (Barbary).
Sir Richard Hawkins died in London on 17 April 1622, and he remained remembered for his widely successful and popularized book " Voiage into the South Sea".