Thomas Cavendish Biography - English Explorer
Thomas Cavendish was an English explorer and a privateer that is best remembered as the fist man who has deliberately circumvented the Earth. Previous four attempts of circumventions of the globe were not interned as that from their start.
He was born in 1560 at Trimley St. Martin, Suffolk, England as a son of nobleman Roger Cavendish. At 12, he inherited fathers' wealth and around 1585 he purchased ship Elizabeth. He then joined the expedition fleet of Sir Richard Grenville on his journey to Virginia.
Cavendish's first big journey began in 27 June 1586 when he decided to repeat the feat that Francis Drake made in 1577. He built much larger ship called Desire, and together with two ships "Content| and "Hugh Gallant" he started his journey across the world. During their journey, they were prepared to raid any Spanish ships and cities on their way, and that happened when they reached the southern coast of California. They raided 3 Spanish cities and 13 ships including the 600-ton galleon Santa Anna where they captured the biggest treasure that ever fell in English hands.

During his journey across the Pacific Thomas Cavendish learned about the coast of Japan and came in possession of the map of China. With only one ship left, he returned to the England on 9 September 1588 completing his journey for the record time.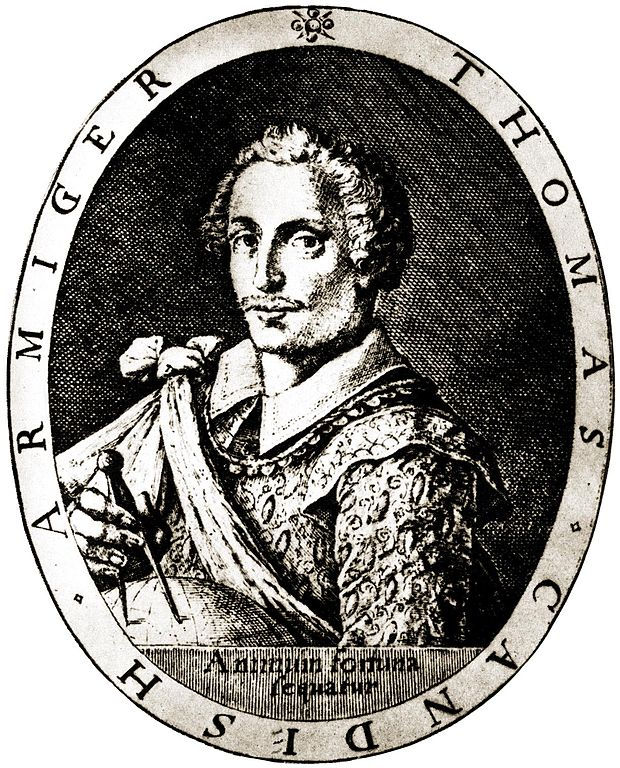 Embolden by his newfound glory and wealth he embarked on a second journey across the world on August 1591 with the ships Lester and Desire. They sacked the Brazilian town of Santos and received massive losses at the battle against the Portuguese at the village of Vitória, Espírito Santo. Soon after in 1592 they continued their journey across the Atlantic but according to reports Thomas Cavendish died there near the coast of Ascension Island. John Davis captain of the second ship Desire abandoned the mission and returned to the England.