Vasco da Gama - Portuguese Explorer
Vasco da Gama was a Portuguese governor and one of the best-known explorers in the time today known as "Age of Discovery". His most notable discovery happened during his 1497-1499 expedition where he successfully found sea route to India circumventing the African continent.
He was born around 1460s in Sines, Portugal as a son of Knight Estêvão da Gama. After the 1490's King John II of Portugal formed the exploratory fleet with a task to find the sea route to the distant India. In 1488, Bartolomeu Dias managed to reach the southern tip of Africa, opening the way for the new expeditions to the east. In the following years, Portugal explorers prepared themselves for the journey to India. New ships were constructed and additional maps were procured from the expeditions that visited India via the land trade route witch was held (and heavily taxed) then by the Republic of Venice.
On 8 July 1497, Vasco da Gama started his journey to India traveling in a fleet of four ships led by his own flagship São Gabriel. During his travel, he visited the eastern shores of Africa and tried unsuccessfully to establish a trade deal with the Sultan of Mozambique. He arrived in India on 20 May 1498 but even there he did not manage to gain the trust of The King of Calicut. After filling his ships with valuable local merchandise, Gama started his journey back to Portugal. One year later, he finally managed to reach the Portugal coast with only two ships and 55 crewmembers.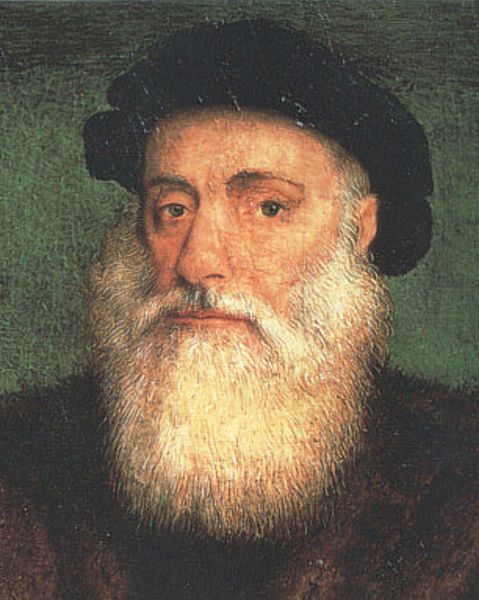 At home, he was showered with praise, fame and fortune. King of Portugal named him "Admiral of the Indian Seas" and was awarded with rights to a land in Sines. Following that success, he sailed to the east two more times. In 1502, Gama commanded the fleet of fifteen ships to the coasts of east India where he was involved in several incidents against Arabs and Muslims, both on sea and on land. After bombarding city of Calcut he returned to Portugal in 1503 carrying full cargo of gold and silk.
In 1524, King of Portugal sent him to India to replace viceroy Eduardo de Menezes, but he died on a journey from malaria. Body of Vasco da Gama was initially buried in India, but he was returned to Portugal in 1539.
Although he never sailed in uncharted waters, never found unexplored land and his initial voyage route to India was greatly product of knowledge of his Arab companion, Vasco da Gama greatest historical success was kick starting the era of sea exploration in Spain and Portugal. After his journey, both of those countries dedicated much larger attention and resources to the exploration of the Indian route both to the east and to the west. Short time after Gama's journey to India several other explorers embarked on their famous journeys – Christopher Columbus to the West Indies, Pedro Álvares Cabral discovery of Brazil and Ferdinand Magellan's journey around the world.