Robert Bartlett - Biography of Famous Pola Explorer
Captain Robert "Bob" Bartlett (1875 - 1946) was a celebrated polar explorer who during the years known as Heroic Age of Antarctic Exploration took part in several expeditions that were aimed at the manned exploration of the frozen regions. He today remains remembered for several of missions in which he took a large part in saving stranded members of polar exploration missions.
Bartlett was born in Brigus, Newfoundland on 15 August 1875 as a oldest son of William James Bartlett, a sailor who worked on a sea his entire life. After growing up in Hawthorne Cottage, Robert took control over his first ship at the age of 17 and started sailing the artic sea that did not stop in the following 50 years. With the experience of over 40 missions to the polar regions, he was considered as one of the best captains who ever sailed the around Arctic.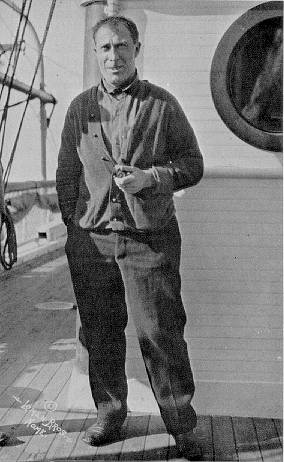 First claim to fame for Robert Bartlett came during the famous 1808-1909 mission of Robert Peary on his failed mission to reach North Pole. Bartlett captained ship "Roosevelt" and accompanied Peary on the land trek to 150 miles away from the pole. Because of the rivalry between Bartlett and Peary he was excluded from the final leg of the journey so, he returned to the shore and sailed back. Thus he became first man who sailed north of 88° N.
Several years later, Bartlett was a part of the failed Canadian Arctic Expedition of 1913–16. Flagship of that organization "Karluk" became trapped in ice while trying to reach Herschel Island. Several months later ship was destroyed by the ice and the crew has to survive harshness of open ice and later and 80 mile trek to the desolate Wrangel Island. From there with almost half of the crew already dead, Bartlett and an Inuk companion hunter Kataktovik set on a mission to walk alone to find help. They walked for over 700 miles over the ice of Chukchi Sea, across Siberia, and eventually found help and organize rescue mission. For saving his crew from Wrangel Island, Bartlett earned the highest award for outstanding heroism from the Royal Geographical Society.
Bartlett continued to sail and provide his expertise for several decades more, helping numerous scientific missions even up to Second Word War, and managing to save members of the doomed Crocker Land Expedition that was led by American explorer Donald Baxter MacMillan in 1917.
Robert "Bob" Abram Bartlett died at the age of 71 in New York, suffering from Pneumonia. He was buried in his hometown of Brigus, Newfoundland and Labrador.