John Ross - Biography of Famous British Explorer
John Ross (1777 - 1856) was a famous British naval officer and explorer of artic that is today remembered for his numerous exploits in the North Sea and several explorations in which he tried to find a way through fabled Northwest passage between Northern Canada and Arctic. He was also an uncle of another famous arctic explorer, Captain Sir James Clark Ross who both sailed with him and had his own expeditions to the both Arctic and South Pole.
John Ross was born on 24 June 1777 in Wigtownshire, Scotland as a Rev Andrew Ross of Balsarroch, minister of Inch, and his wife Elizabeth Corsane. He joined navy at the young age of nine, as an apprentice in Royal Navy, honing his craft first in the Mediterranean and English Chanel. His first command arrived in 1808, when he was 31, eventually receiving promotion in the Swedish Navy to the rank of Commander in 1812. Six years after that, he made contacts with British Admiralty, you gave him command over his first Arctic expedition. Goal of this mission was to find the way across Northwestern Passage, using two ships - his "Isabella" and "Alexander" that was command by Lieutenant William Edward Parry. They sailed around Baffin Bay, reached Lancaster Sound and the entrance into eastern gate of the Northwestern Passage. He did not travel far from there, returning home and reporting seeing mountains that later on turned to be a mirage (Crocker Hills).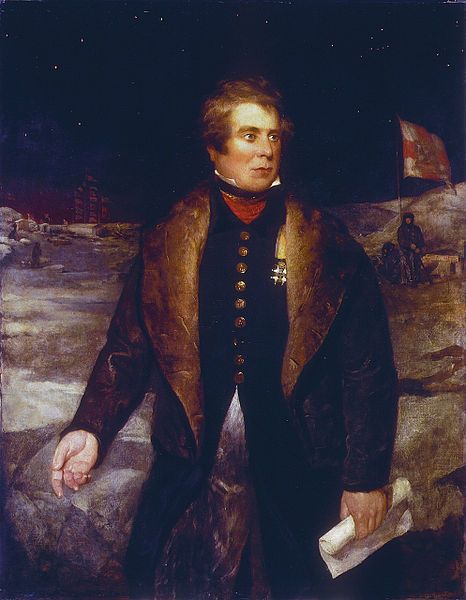 Between 1829 and 1833, former lieutenant of John Ross, Lieutenant William Edward Parry, commanded another mission to the Northwestern Passage. On this journey, John Ross and his nephew James Clark Ross served as officers, managing to sail 600 miles more than on previous journey. This journey was responsible for discovering main axis of Northwestern Passage. They spend several years in the north, familiarizing themselves with the area, learning from Inuits, and traveling far to north. James Clark Ross even managed to lead the land expedition that found the North Magnetic Pole, on the June 1, 1831 in the Cape Adelaide on the Boothia Peninsula. Famous Norwegian explorer Roald Amundsen found the North Magnetic Pole in a different location 71 years later (magnetic poles move over time due to the fluctuations in the Earth's core).
After returning home, Captain Ross was welcomed warmly by English and French geographical societies, earning several medals, awards, knighthood of the Pole Star of Sweden and knighthood and a CB in Britain. He sailed once more to the Arctic Sea in 1850 in search for the missing expedition of Sir John Franklin, but he never managed to find them.
Captain John Ross died in London in 1856.