Vivian Fuchs Biography - English Explorer
Vivian Fuchs was an English explorer, who is best known today as a leader of an expedition that first managed to cross Antarctica over land in 1958.
He was born in 1908 in Freshwater, Isle of Wight, England as a son of German Immigrant Ernst Fuchs and Violet Watson. After finishing Cambridge and getting a degree of Geology, he started his life of exploration. He went to Greenland in 1929, visited African lakes in 1930 and Lake Tirukana in 1934. During the Second World War, Fuchs was a part of a Territorial Army on a Gold Coast, and he was a part of a D-Day. After a war, he left the army with the rank of Major and started his scientific work as a geologist with the Falkland Islands Dependencies Survey. There he was involved in early plantings for exploration of Antarctica.
Vivian Fuchs most known journey happened in 1957 when he led the Commonwealth Trans-Antarctic Expedition. Preparations for mission lasted almost three years and they consisted of several advance party scouting and establishment of a Shackleton Base near Vahsel Bay on the Weddell Sea and Scott Base that was supposed to be their destination.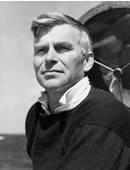 On November 24 1957, he and his party of twelve men started his journey driving specially adapted snow tractors called Sno-Cats. During the travel, they conducted several important scientific measurements - seismic soundings, gravimetric readings and they also measured the thickness of ice that lied over Antarctic continent. Although it was not planed, Fauch decided to change his course and on January 18, he reached the South Pole becoming the third man to reach it over land (after Roald Amundsen in 1911 and Robert Falcon Scott in 1912). After ninety-nine days on ice, they finally reached the Scott Base on 2 March 1958, traveling over 2150 miles.
For his contributions to British scientific discoveries, Vivian Fuchs was knighted by the Queen Elizabeth II. He died on 11 November 1999 in Cambrige at the age of 91.